Today I returned from a 2 week visit to Australia. Mainly this was to spend some time with my son who lives and works in the nation's capital, Canberra. Before my trip I reached out to a couple of clubs in the hope of getting some fly fishing in. I received a response from Peter Batho who is president of ACT Flyfishers right there in Canberra. Peter very kindly agreed to take me fishing while I was over so I took my 7ft 3/4wt Wychwood rod, reel and line, some flies and my waistcoat.
On the appointed day Peter picked me up and off we went. Our target was the Goodradigbee River running through the Brindabella Valley in the mountains of the same name. After an hour long drive, the latter part over a rough dirt road through thick eucalyptus forests, enlivened by sightings of kangaroos, wallabies, and rosellas (parrots), we were on the final descent into the valley. I was expecting a narrow valley with steeply wooded sides and a fast flowing, rocky river at the bottom of it. Imagine my surprise to be greeted by the sight of a lush, fertile, flat-bottomed valley which seemed to be full of wildlife (and farm animals). We turned up a side track and eventually parked by the river.
Peter had explained that the river contained both rainbows and browns which were stocked as fingerlings to grow on. He thought there might be some natural reproduction but not much. Fish were generally smallish but a 30cm catch would not be unusual.
We walked downstream about a quarter mile and I started fishing using a goldhead nymph below an elk hair caddis as an indicator. After a few casts the dry fly was taken but, alas, the fish and I quickly parted company. After that, apart from one splashy rise to the dry fly, I struggled. Meanwhile Peter got into a couple of fish further upstream. It seemed my nymphs were too lightweight so Peter kindly lent me a suitable pattern. Moving upstream we tried various pools and runs. The change of tactics paid off for me and I finally managed to land my first Oz trout on the nymph. Another followed plus a couple of fish came unglued. I also caught a couple on the dry fly. I even got broken by one fish which made a single lunge after taking the nymph and snapped 3lb leader like cotton! Peter also got broken on a couple of occasions. The fish were amazing fighters for their size and could not be bullied. They made very strong runs and leapt repeatedly.
After a pleasant lunch we tried other stretches without much luck although I had one more fish to the dry. The cessation in sport was probably down to time of day and hot sunlight. I only saw a few fish rise and none of those covered came to the artificial. And although the water was reasonably clear fish spotting was almost impossible so we just had to prospect the water. Overall though we had a real fun day. A few pics are below............
Peter into a fish: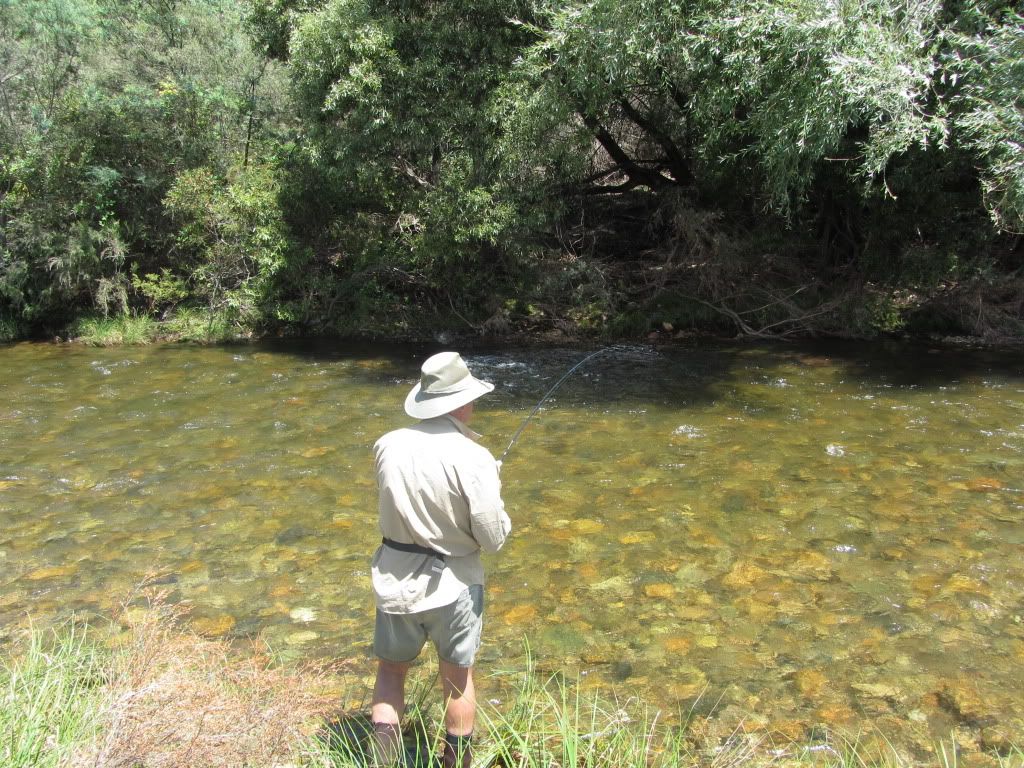 And the result: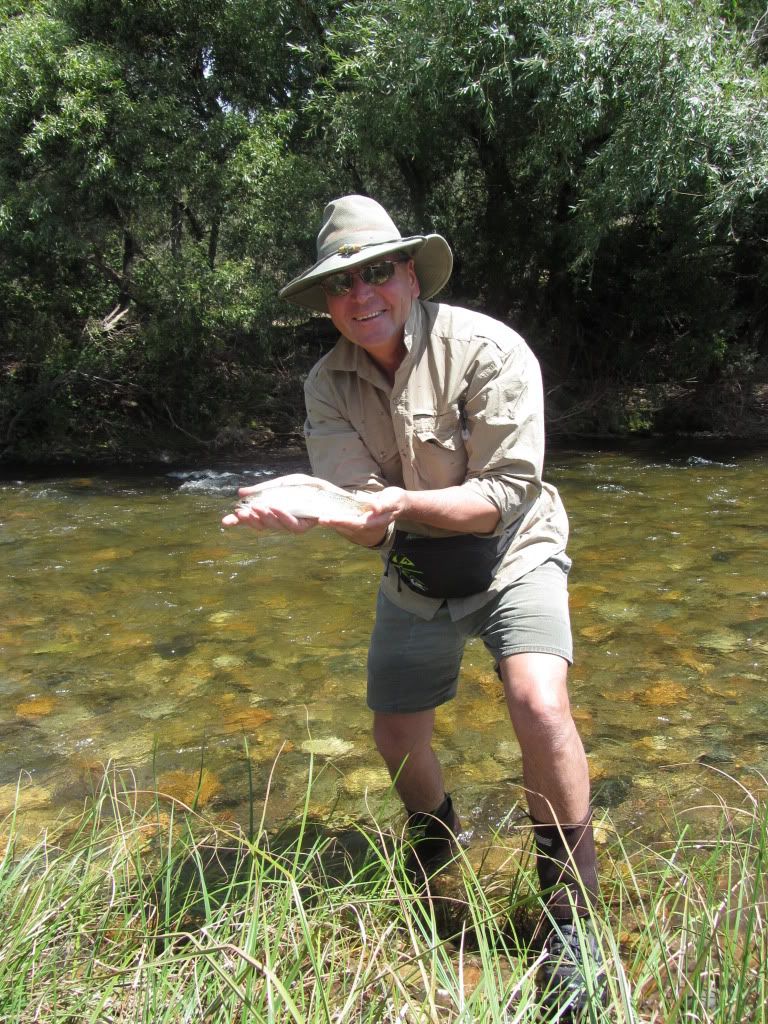 One coming to hand for me: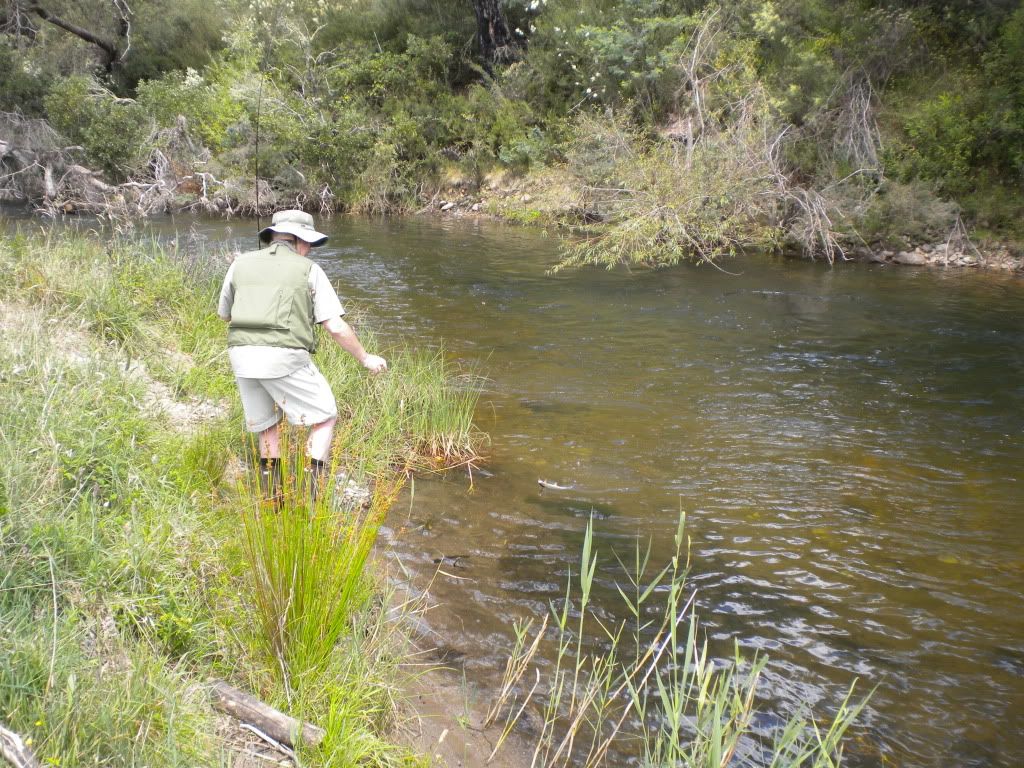 Say "cheese":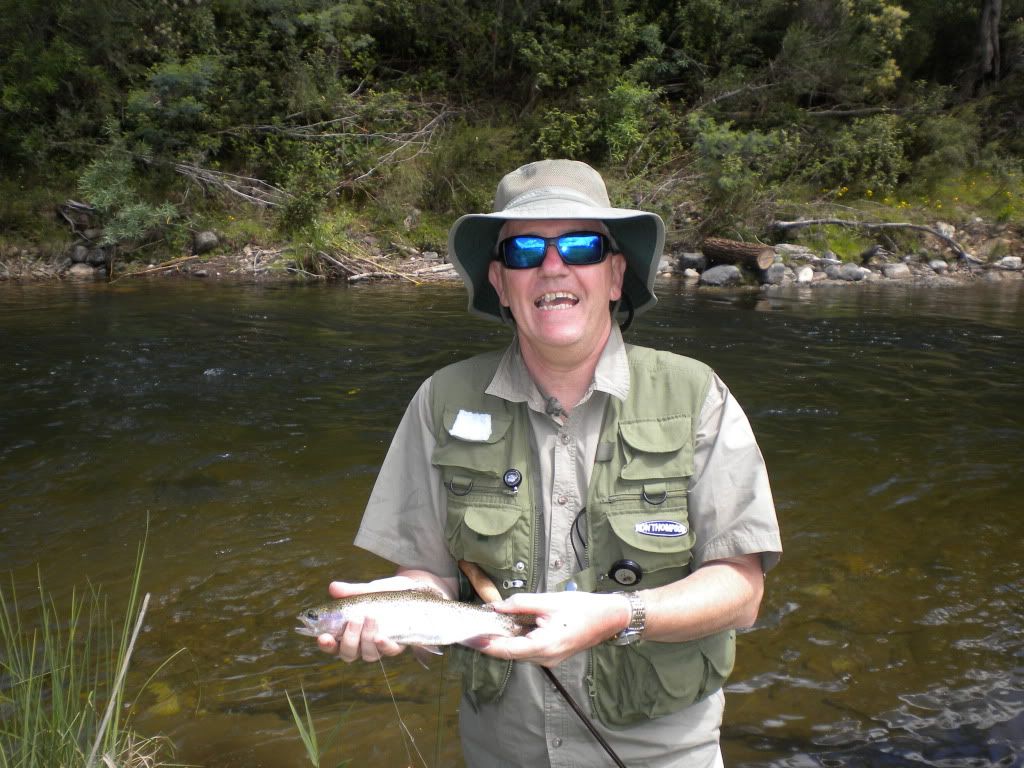 Two happy anglers at the end of the day: