Last cast wrote:
I all so live in Plymouth and fish mudflat and estuarys in the tamar/yelm/
Well Dave, you certainly live in an ideal part of the country to chase mullet. You no doubt have a good knowledge of mullet marks and the fish themselves through your experience to date. Probably the main difference between fishing for ghosts with bait and on the fly is the depth of water in which you will concentrate your efforts. In very simple terms, thicks are best targeted at the mouths of estuaries from low tide up. Shoals will appear shortly after the tide turns and starts to flood. They will seek areas of current where living and dead organisms are abundant, whether in the estuary's main flow or on the surrounding flats. Once you have located a feeding shoal simply dead drift the flies towards them on the current. Use only a floating line and un-weighted flies for this approach, as the fish will be feeding in water between six and eighteen inches in depth. The Ghost Buster was developed to tempt mullet feeding in water less than eight inches in depth over a bed of annoying, hook-snagging weed and is therefore a buoyant pattern. By chance, it also accounts for mullet under a wide variety of conditions.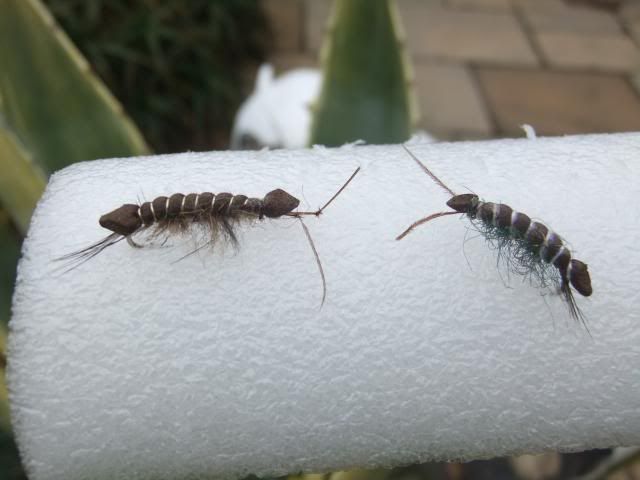 Equally potent in seducing mullet is the red headed diawl bach, concocted by 'Welsh Toffo', a member of this forum. The 'flexi-shrimp' is a less productive pattern in terms of numbers but is supreme in taking large, specimen fish. The 'Corophium' represents Corophium volutator, the mud shrimp, and is deadly for thin lips when feeding on these mud dwelling crustaceans. Again the action takes place in water only inches deep as the tide slowly reclaims the mud flats. The trio are pictured below...
Golden greys love a flexi-floss blood worm, as do any passing sea trout or bass.
This season I have fished with Grand max soft plus for my leader material (10.4lb b/s) and is in a word superb. For the dead-drift technique described I use a ten feet leader with a dropper tied four feet up from the point fly. A deadly combination is a Ghost Buster on the point with a diawl bach on the dropper. Reverse the fly positions in slightly deeper water or where a strong current exists.
The following article provides more information on the different mullet species and how to fish for them. I wish you all the best with your challenge and look forward to reading your catch reports
http://eat-sleep-fish.co.uk/content/201 ... h-bonefish