Finally after 2 years of waiting since we returned to the UK I headed to Florida to fish, fish, fish and to catch up with as many of my buddies there as possible. Pivotal in it all was the Jacksonville Kayak Fishing Classic, a tournament in which I had won the fly section in 2006! I flew to Orlando, picked up the rental car and headed to the home of my friends Dany and Lori Hernandez. They back on to a nice lake from which Dany recently caught a 9lb black bass.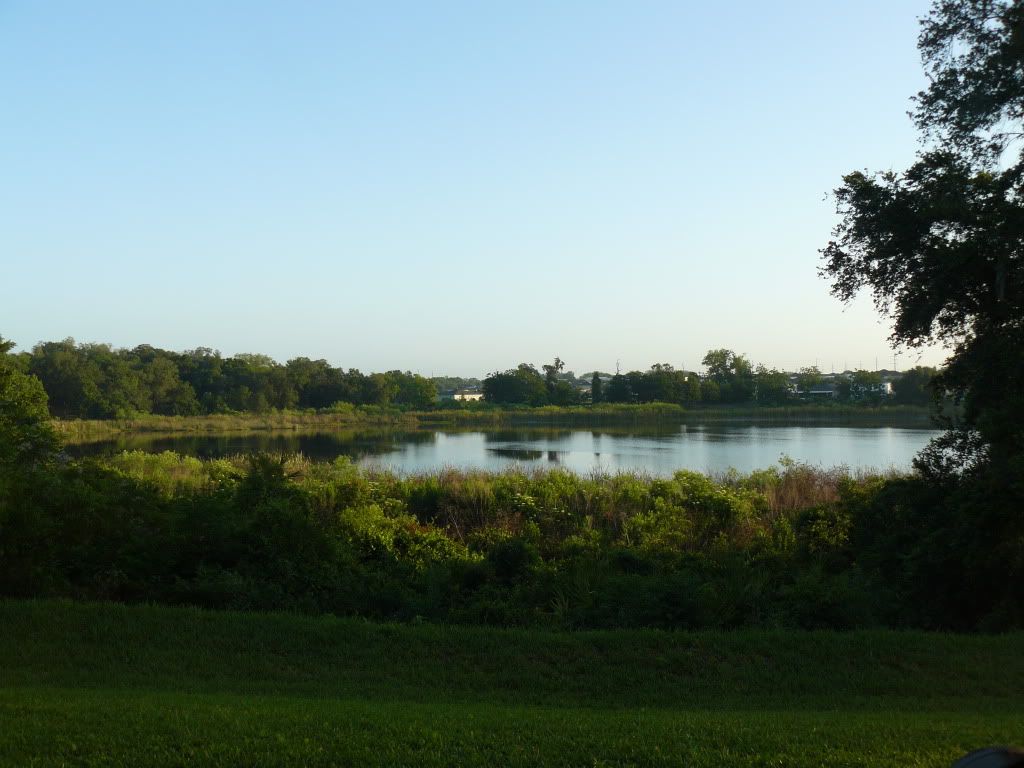 No messing, out on the lake in the evening with the 7 foot 3 wt to mess with the panfish. I caught a little bass and a half dozen bluegills. Good fun!
Day 2: Indian River Lagoon. An early start was enlivened by seeing a couple of wild pigs as we approached the launch. We knew it would be windy and it was BRUTAL! There wasn't much shelter and spotting fish was very difficult. It's a sight-fsihing location so the latter ability is paramount. It wasn't to be - all I could get was a pinfish (trash) and Dany got so frustrated he actually sight-fished a puffer fish. And it actually took the fly!
Day 3: Drove up to Jacksonville. Picked up a loaner kayak from a friend in the afternoon - I was set! Spent a very pleasant evening having dinner at the home of the widow of a friend of mine (Jim) who sadly passed away last August. A fishing buddy of Jim and me (Kevin) was also there. Thanks to the generosity of Joyce, Jim's widow, I came away with some trout flies, a fly tying book and a Redington CPS 9ft 9wt 4 piece rod which she insisted I have. That was to be my rod of choice for the rest of the trip!
Day 4: Launched from Vilano Ramp in St. Augustine with Kevin. This was a trip in memory of Jim, fishing the places we fished most often with him. Fishing was slow, the water seeming dirty, but early on I did manage a feisty redfish on a charteuse/white clouser.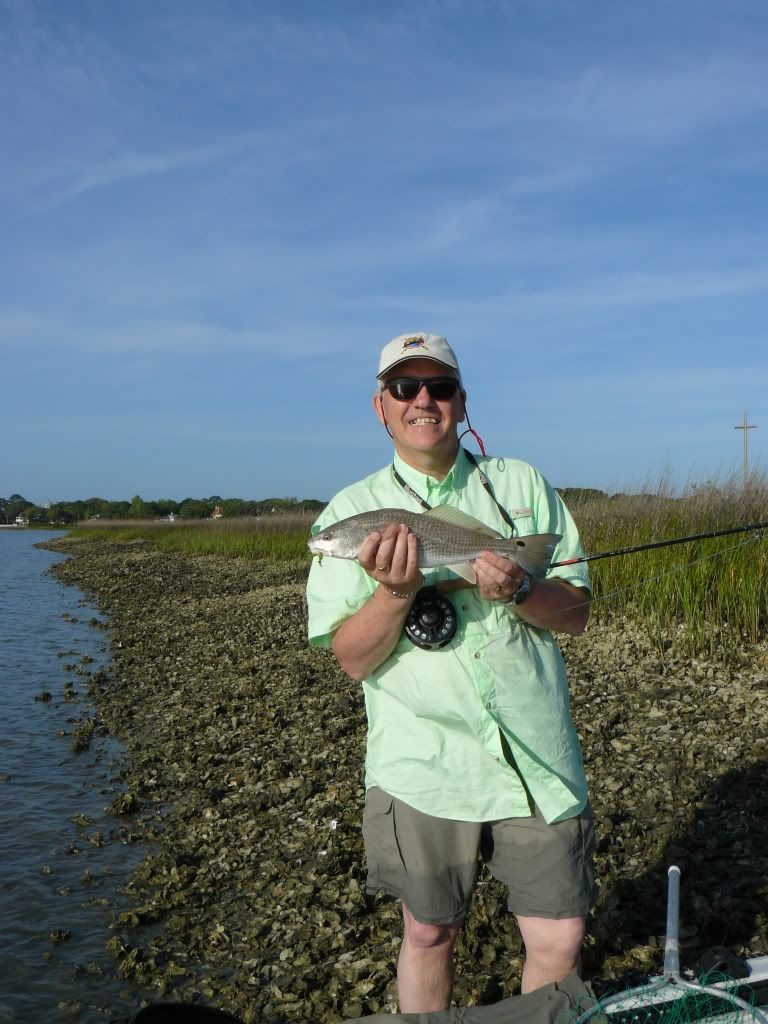 Apart from that I hooked and lost a big ladyfish. Kevin caught 2 big ladyfish and a small mangrove snapper.
Day 5: Fished the Guana River south of Jacksonville with friends Scott and Mark (who fishes bait and lures). This was the scene of my 2006 triumph. Started early, lots of activity but just couldn't get a hit. I later caught up with the other two to find Scott had caught a 27" redfish on a black clouser and Mark had caught a 29" red on a topwater lure. All I got that morning was a flounder and I also lost another flounder.
Day 6: Fished out of Oak Harbor Ramp in Jacksonville with my buddy John. Had a fun morning, caught 2 redfish, 5 speckled trout, and 2 flounder, plus a sting ray which I foul-hooked. Sting rays go for the fly but inevitably miss it and you usually hook them in the leading edge of the wing which is what happened in this case. Into the net and unhook carefully! Here's a flounder in the net: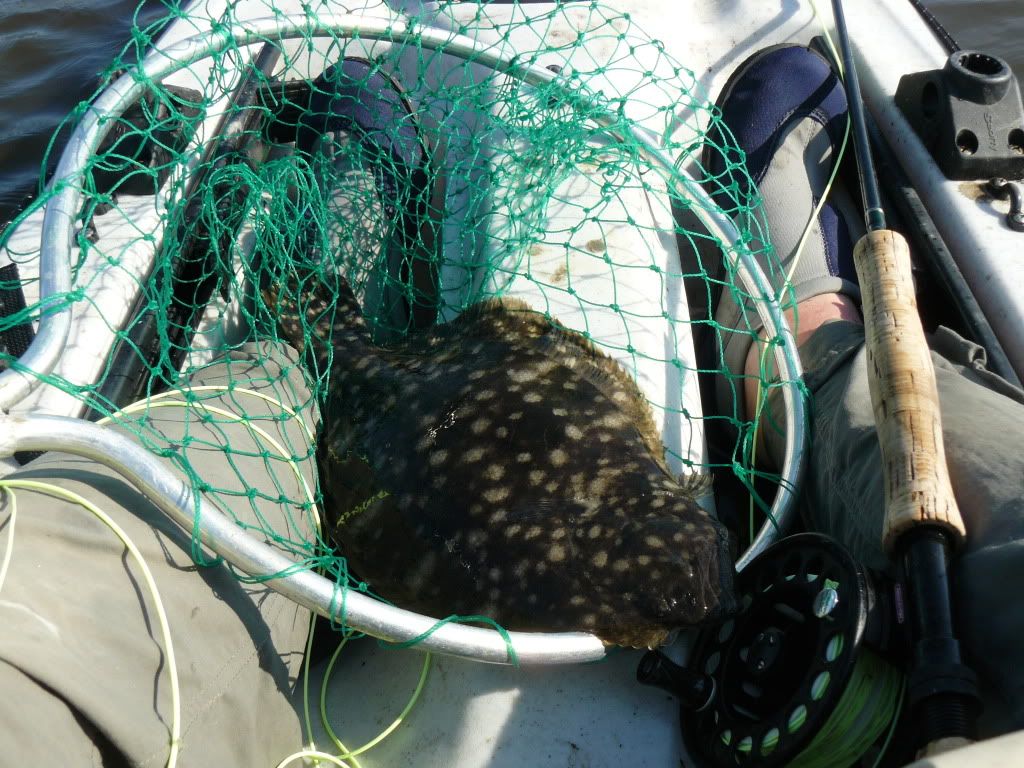 And a red - small but fought way beyond his size!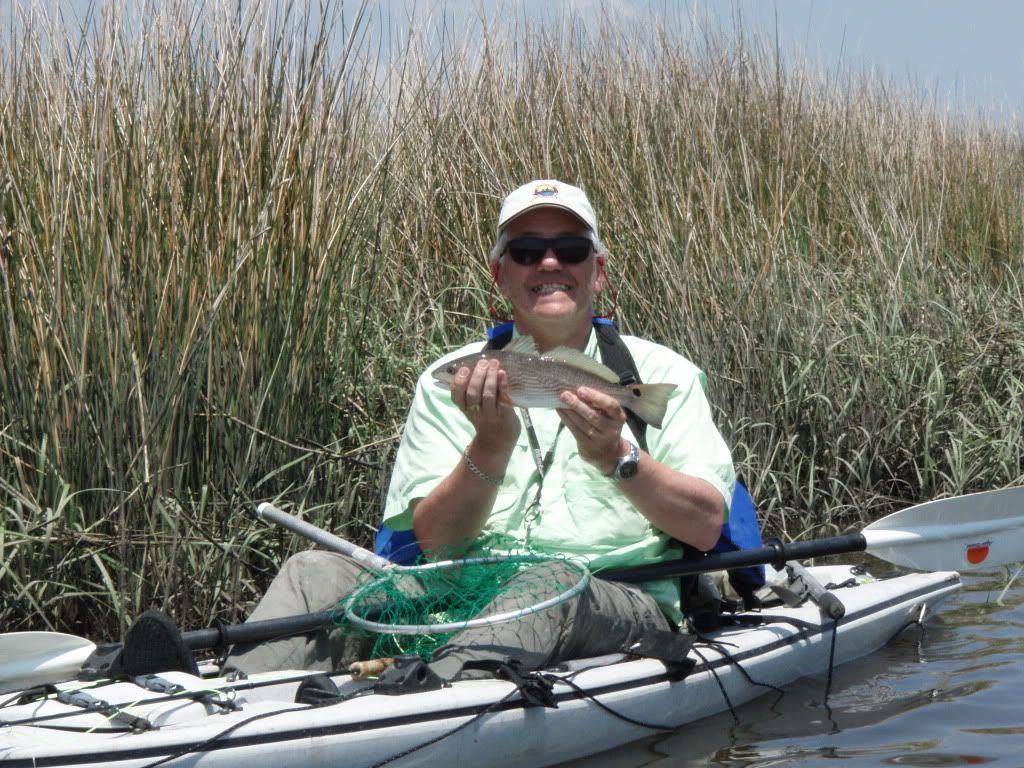 John caught 5 reds, a trout, a flounder, a black drum and a sting ray, all on bait. Here's John with a chunky 23" red: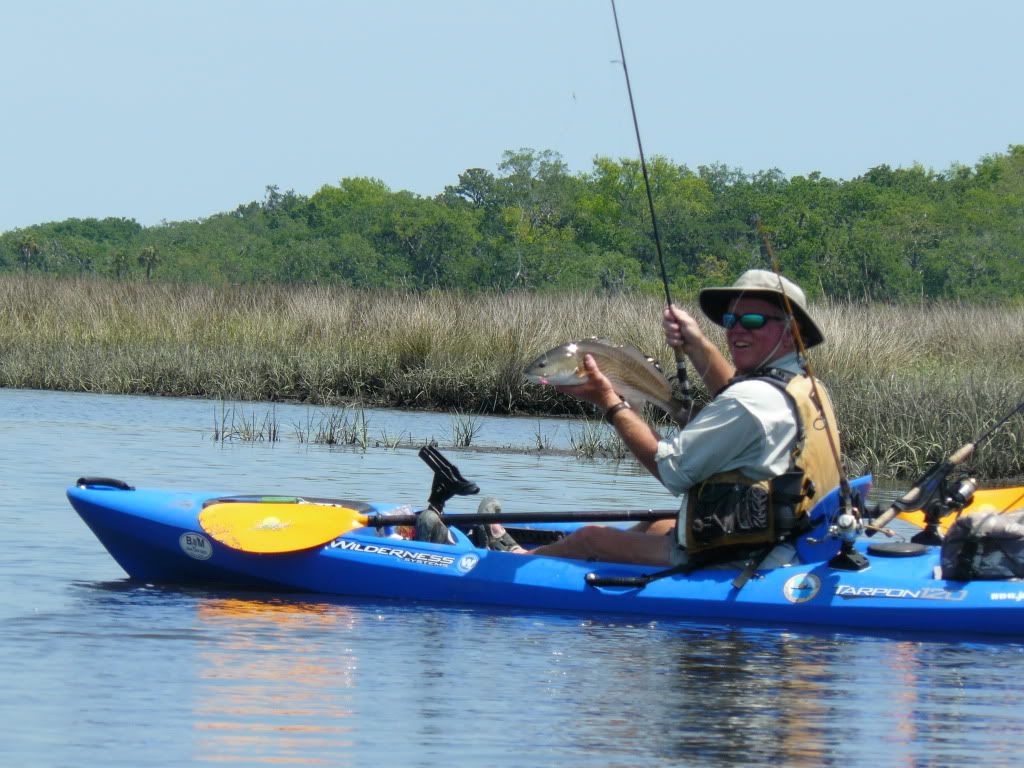 Day 7: The tournament! And what an anti-climax. I fished the Guana River (of course!) and failed to boat a single fish. Four hookups and they all came unglued.
Worst of all was a redfish which ran right past the kayak and looked to be in the 30" class. That would have won a big prize! The tournament and all that went on around it was brilliant. There was $80,000 worth of prizes, all donated by sponsors, and it raised over $40,000 for charity.
Day 8: Leaving day but I finished off with a morning in a boat with my good friend Capt. Warren Hinrichs Jr. We found some redfish but not many and they were tough to spot. I missed one and caught a flounder. Guess it just was not to be.
Overall I had a brilliant time and can't wait to go back again. Next year maybe?
The friendship and kindness shown me was amazing and the weather was superb. And now I'm back in the UK looking at the wind and rain...............