It had been 4 long years since my last trip across for the annual Jacksonville Kayak Fishing Classic. For me it isn't just about fishing in the tournament along with about 400 other people, it's the chance to catch up with old friends (we lived in that area for 4 years) and also to make new ones. Add in the potential for great weather plus the opportunities for shopping and it has all the potential for a good time. So I flew to Orlando, suffered a horrendous immigration queue, collected my rental car and drove up to my temporary accommodation, with Captain Troy James and family, just outside St. Augustine. Troy also, very kindly, loaned me a kayak for the duration of my stay. Amongst other things he is a fishing guide and has a couple of boats plus some kayaks.
Day 1 (Monday) saw me wide awake way too early due to jet lag. Nothing for it but to head out (as I had always intended!). I fished Clapboard Creek, north of the St. Johns River, and paddled to a favourite spot. I soon found feeding Redfish although getting them to take my flies was a different matter - serious case of "lockjaw" evident! However I eventually found a willing participant and, after a terrific fight, landed this 28" hunk of muscle: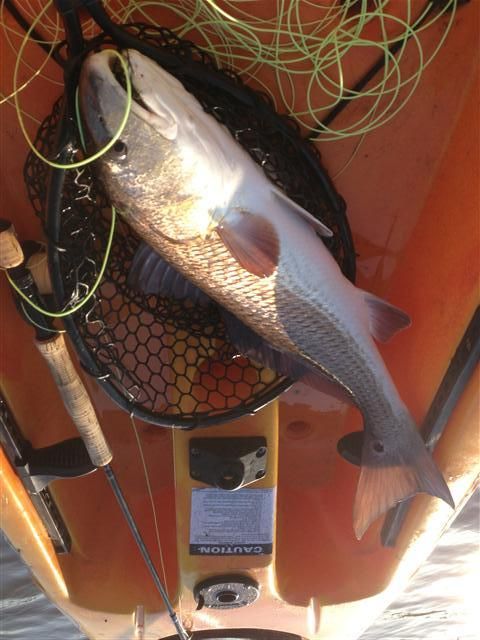 It would have probably have weighed about 8-8 1/2lbs. Sadly, apart from one missed take and a small Jack Crevalle, that was it, but it gave me the chance to explore and get a little paddle-fitness back.
Day 2 saw me at the Guana River with a friend (Kevin). As we unloaded the kayaks the waters below the dam across the river erupted into a frenzy of freeding fish. Once loaded we paddled out and started casting at them. Kevin got a real mixed bag - a Speckled Trout, a Ladyfish and a Jack. I got an 18" Redfish plus two Jacks. After a while and with things quietening down we decided to head downriver to explore the oyster beds. My favourite technique is to drift along the line of oysters, casting as close as possible to them. If there are signs of fish then, of course, we target them. No such signs but the fish were there and I latched on to a 24" Redfish: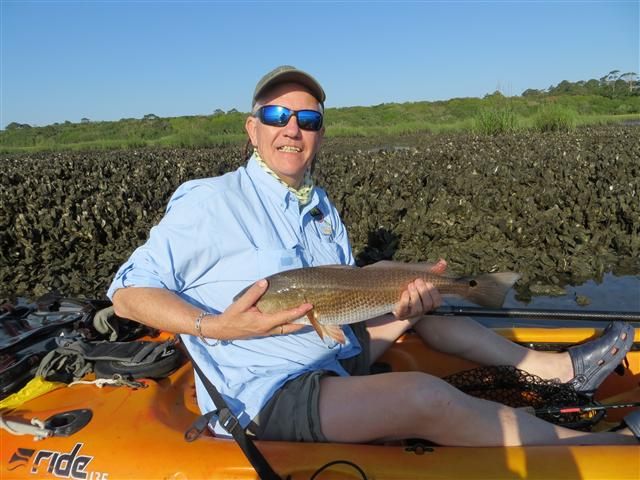 I also picked up another small Red before things quietened down with the slack (low) tide. We explored a little further and picked up a Jack apiece. Once the tide had turned we returned to the oysters and I got a Flounder, a Speckled Trout, and a 20" Redfish. Here are the Flounder and Trout: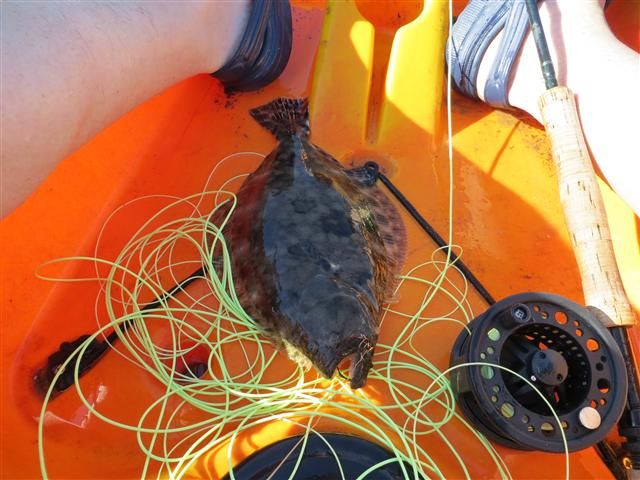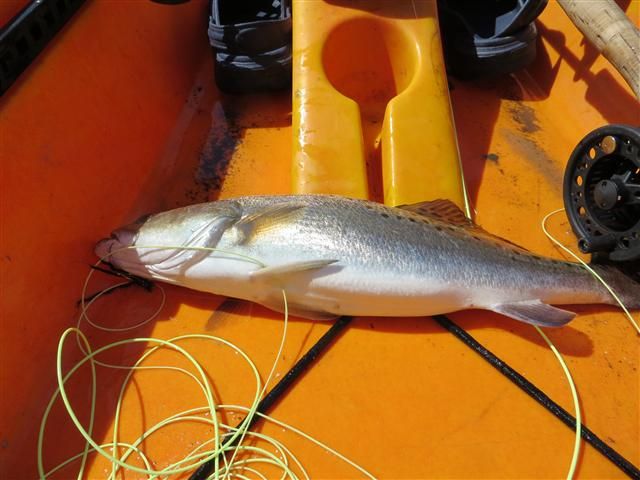 Unfortunately Kevin didn't catch any more. Still we had a fun session and my trip was certainly off to a great start. It didn't last...
Day 3 I went out with a friend (Scott) in his Gheenoe, a kind of motorised canoe. We went back to Clapboard Creek and, although we saw quite a few Redfish, they were very spooky and really not feeding. I ended up with just a single 18 incher. Day 4 I went back to Guana but started above the dam - a total bust so I relaunched below the dam. Again it was tough, just a small Redfish and a Jack to show for my efforts, plus a good Redfish lost.
Day 5 was the day before the tournament and I had planned to fish Oak Harbor with another friend (John). Unfortunately John couldn't make it so I launched and fished alone. And fished and fished with no result apart from one brief hookup, which I think was a Flounder. Later it was off to the Captains' Meeting for the tournament and the chance to meet up with many friends and to generally have a good time - and we did. I was able to join in by helping to sell raffle tickets and, boy, did we sell a lot! Even at $5 each (5 for £20!) they were selling like hotcakes, which is hardly surprising, given the prizes available. There was all sorts of stuff, including a kayak or two. All prizes are donated by sponsors, and this includes the prizes for the tournament itself, and all proceeds go to charities. This usually ends up being somewhere around $35,000 - $40,000. Our charities this year were the Downs Syndrome Association of Jacksonville and The NE Florida Chapter of Heroes on the Water (a bit like our Fishing for Forces).
Day 6 (Saturday) - tournament day - Up early, breakfast and coffee from a petrol station so as not to disturb the household, I launched into the Guana River and into a pretty strong wind. I fished various spots for an hour or so then started to feel that something was wrong - with me! Quite soon I began to feel pretty ill and realised my breakfast wasn't agreeing with me. Thankfully it was just a feeling without any real physical symptoms, if you get my drift! I decided I should get back to the ramp (about 1/2 mile), see how I was after a while and, hopefully, resume fishing. With the strong wind at my back I hardly had to paddle at all. I got back and got out of the kayak and then pulled it up on to the ramp - or tried to! I couldn't move it at first so I unloaded it then tried again. Still hard to do but I managed. I opened a hatch and looked inside and there was a load of water in it. Uh oh! I opened a couple more hatches, tipped it over and a veritable flood ensued. On inspection a hole had formed at the very rear of the keel, probably as a result of it being dragged to the water (it was too heavy to carry). I guess this had been on the verge of happening for some time, just wear and tear, but unfortunately it happened on tournament day. Easy to fix but not there and then. Amazingly I bumped into someone I used to fish with some years ago and he had a spare kayak, which he offered me the loan of. How kind! After some deliberation I politely declined as I didn't want to get back out there and have further problems and I still didn't feel so good. So I packed up and headed back to tournament HQ where after a while I mostly recovered. Luckily I was able to assist with angler check-in and also the judging of the catch photos which helped take my mind off things. But could I get any lower? Hopefully not.
Day 7, my last full day, and Troy had offered to take me out in his boat. We launched from Vilano Ramp in St. Augustine and went searching for signs of fish, even venturing offshore a little. Nothing doing but we were rewarded with the sight of numerous dolphins. Eventually we headed to a channel I know of and started to fish. Right away I had a Jack then the fun started with Ladyfish. They were quite a good size for the species and fought incredibly well, treating us to some amazing leaps. Not for nothing are they known as "the poor man's tarpon"! My Jack Crevalle: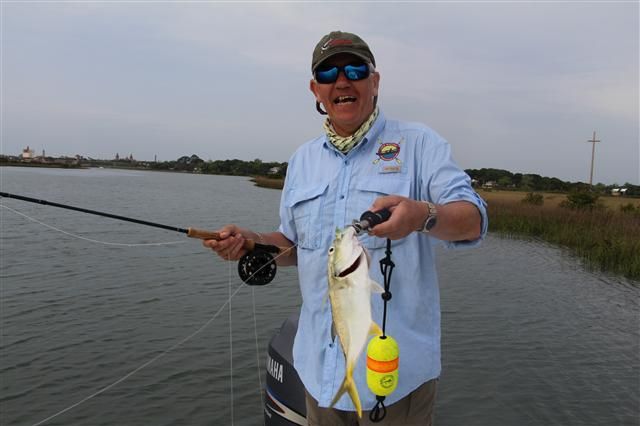 Ladyfish fun: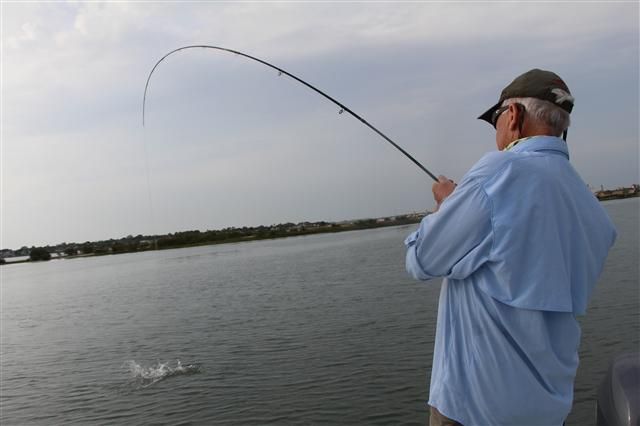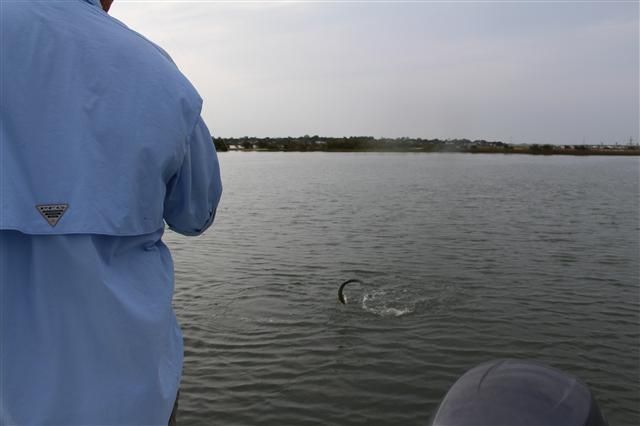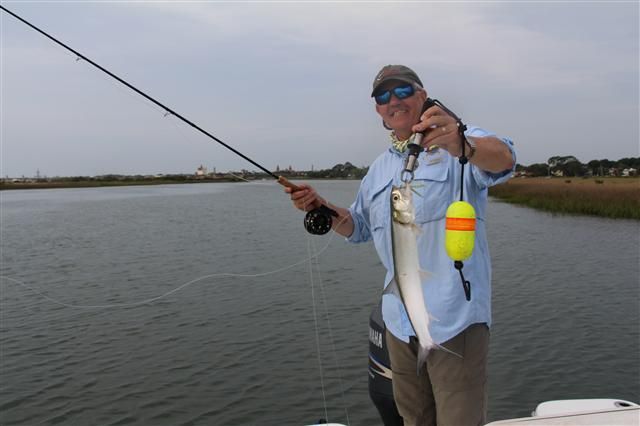 Capt. Troy got in on the action too!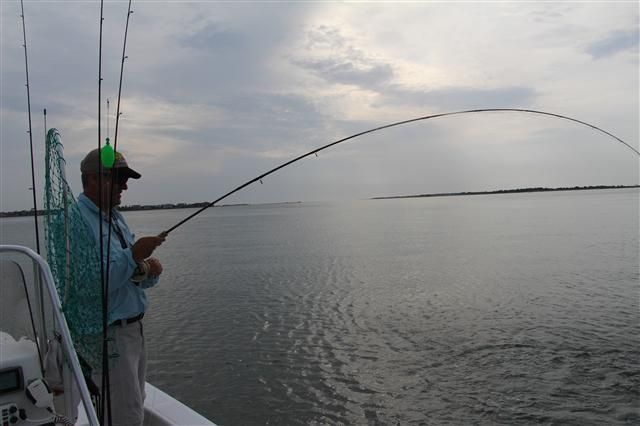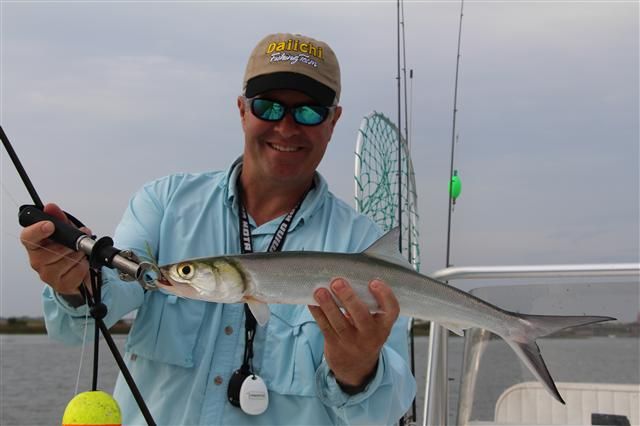 So a fun and enjoyable end to my trip. At other spots we tried Troy also caught a couple of small Redfish plus a Speckled Trout. We also saw plenty of other wildlife too, including a couple of manatees, some turtles, and a bald eagle. As always in Florida (and this might surprise the bird-watchers among you) ospreys were everywhere and we would often see them taking fish.
So a good trip, could have been better, highs and lows, but I have no regrets for going.